Top 5 Historical Sights in America
1: The Liberty Bell, Philadelphia.
The Liberty Bell became an important symbol of American independence after it was adopted by the abolitionists as their symbol during their fight to end slavery. The bell is often closely associated with the Declaration of Independence due to its relation to a short story of the period. The story told the tale of a bellman who rang the bell just as independence was declared.

2: The Lincoln Memorial, Washington, D.C.
Built to commemorate one of America's greatest presidents, Abraham Lincoln, the Lincoln Memorial stands, or rather sits, proudly at the West End of the National Mall in Washington, D.C. Housed inside the white, column adorned building, a gigantic statue of Lincoln sits gazing contemplatively at his visitors, an excellent spot for a photo!
3: French Quarter, New Orleans.
New Orleans is known for its eccentric and lively ways and this is no more apparent than in the French Quarter! This area is the oldest neighbourhood in the city and here you will find the world-famous Bourbon Street, bustling markets and incredible restaurants. There is so much to see and do here that it is an absolute must for any traveller!
4: Brooklyn Bridge, New York
An icon of the New York landscape, the Brooklyn Bridge was completed in 1883 and is a reminder of New York's architectural history. It took over 13 years to complete the bridge and it is reported that 27 people died during the construction! Taking a stroll across the bridge is something that everyone that visits New York has to do! Watch out for the cyclists though.
5: Mount Rushmore, South Dakota
Nestled within the natural beauty of the Black Hills, four large faces loom high above the tree tops. Mount Rushmore, the historical sculpture featuring the faces of George Washington, Thomas Jefferson, Theodore Roosevelt and Abraham Lincoln is one of the most recognisable sites in America! Did you know that SnapChat filters work on them…
Frankie Cooksey.
AmeriCamp As Told By AmeriCampers!
This generation has been enthralled with the idea of American summer camps ever since Demi Lovato and The Jonas Brothers graced our screens with the all-singing, all-dancing feel good film of the year, Camp Rock. In the movie, you see the characters fall in love, make lifelong friends and most importantly, having amazing experiences.
I know what you're thinking, surely it can't be that good in real life? You'd be right. It's not that good. It's much, much better. AmeriCamp gives you the opportunity to use your special skills to help give some special kids the summer of a lifetime, whilst making memories (and money!) of your own. Whether you're a great sportsperson, a talented musician or an amazing listener and friend, AmeriCamp will make sure you're #PlACed somewhere that your skills make the biggest impact. Even more astoundingly, with Campus Group, there are endless opportunities to travel and make a difference, not just in America, but all over the world!
But don't just take my word for it. I've spoken to people that have had their best summer ever through AmeriCamp, and they want to share their experiences with you.
First up we have Leo Westbrook who worked at Lake Greeley Camp, Pennsylvania last summer.
"Thanks to AmeriCamp, I had the best summer of my life!
I had wanted to do Camp America since sixth form, and during my first year at university I found out about AmeriCamp, who offered a more personal and helpful experience, higher wages, lower fees and FREE BISCUITS! I started to fill out my application immediately and never looked back. As a gymnast with experience in circus skills and rock climbing instruction, I found that camps were fighting over me! I decided to go with Lake Greeley Camp, signed the contracts and got placed on the spot! I was going to America!
AmeriCamp couldn't have been any more helpful throughout my application, even when my forms were sent to the wrong destination the day before my visa interview or when my dog ate my documents the week before my flights! They were always on call night or day to help me out and it was clear that they genuinely cared about me.
At Lake Greeley Camp, I was put in a cabin of boys aged 12-14 and we had an absolute ball! We became known as the "frathouse of camp" thanks to the music we blasted from our porch for the entire camp to listen to and all the antics we got up to over summer. I learned the art of flying trapeze, and was trusted to teach this to children of all abilities, from those with vertigo to pros who had done this activity for up to 8 years or more. As well as this, I coached gymnastics, where I introduced new activities to the camp such as "the floor is lava" and two person acrobatics, opening this usually quiet program to every child. I was even put in charge of the entire gymnastics program for a week while the director had to go to a competition. It was great to be trusted with that level of responsibility!
There are too many amazing moments to pick a favourite, and looking back I can see that camp has made me a drastically different person; more confident, more responsible and a whole lot more fun!
I was picked as a captain for Camp Olympics (Go Australia! We love Vegemite!) and didn't sleep for three whole days, but I loved every second! I was the leader of Greeley Ninja Warrior where the kids competed against me in a series of gymnastics, adventure and waterfront obstacle courses. One of the kids in my cabin was voted prom king which was a proud moment. I was the chief spirit ghost on the haunted trail night. My cabin dressed me as Uncle Sam for July 4th, shaving foam beard and all!
I could go on but I'd be here for hours!
AmeriCamp has provided me with a summer of friends, skills, memories and experiences which will stay with me for the rest of my life, and all I can say is bring on AmeriCamp 2017!"
Louis Bird worked in Camp Loyaltown, New York in the summer of 2016.
"Camp Loyaltown is for people who have developmental disabilities. Some of the campers I worked with ranged from autism to down syndrome to Cerebral Palsy (CP). This was definitely the hardest but most rewarding summer I've ever experienced.
It was certainly a challenge. I had to change nappies and learn American Sign Language, but I learned skills I'll never forget and couldn't have gotten anywhere else. One deaf camper loved his soda and where else would I have had to learn 'soda' in sign language?
We would take the campers to get breakfast and one of my campers needed to be fed by hand as he had CP, it was great being able to help him like that. The daily activities ranged from arts and crafts, drama and nature walks to swimming in the pool, which was everybody's favourite! Some of the campers would need quite a lot of encouragement to join in, but once we got them involved they loved it!
There would always be an evening activity which would be something really fun like dances and super-hero nights. The campers all seemed to love the evening activities! My favourite one definitely had to be having nights around the campfires outside making S'mores! It was the first time I'd ever had s'mores and I have to say that they were really yummy, if I didn't have to share I could have eaten a lot more than just the one!"
Finally we have Levi Tucker who also went away last summer, working at Camp Airy, Maryland.
"Camp made Summer 2016 the "Best Summer Ever!" Because it's something I've wanted to do since I was 14, and it was so surreal that it was finally a reality! Camp was a place where no-matter what happened, I always felt at home, appreciated, and loved. I've never had a summer where I enjoyed every minute, and never once felt bored. Experiencing a new culture, and being part of something bigger than just yourself is mesmerising, and I can't describe enough how much it changed my life! Camp doesn't just live for the summer, it has a pulse that stays strong for forever afterwards – this lives on through friends you make, and memories you keep. Anyone who gets the opportunity to do it, definitely needs to grab it with both hands and run with it! I loved it so much, I'm returning to Camp for Summer 2017!"
Lauren Goodfellow.
AmeriCamp: My Experience!
Hello!
In the summer of 2016 I stayed in the US for 12 weeks working at a Summer camp through AmeriCamp! I was working at a Summer Camp  for children and adults with developmental and intellectual disabilities. 
Working at Camp Loyaltown
The word disability often scares people, maybe people aren't aware of how to interact with people with certain disabilities or just don't know about disabilities. As someone whose brother has ADHD and Asperger's syndrome and who is learning and teaching British Sign Language I feel it is important to learn and embrace disabilities. Starting working at a Summer camp was of course exciting and nerve wracking at the same time. I would be in a place that is completely alien to me looking after adults and children with disabilities, with people from around the world who I have never met. To me this was exciting, I like new challenges and I wanted to become more aware of the different types of disability and help the people who I was looking after have an amazing summer. I also got to work at a Summer camp with people from at least 30 different countries and I have kept in touch with many of them. AmeriCamp helped me through each stage of applying to work at Camp Loyaltown and gave me general information about working at a Summer camp. I even got to talk to someone who worked at a disability camp previously.
When choosing to apply to work at a Summer camp I was told at an orientation by people at AmeriCamp, disability camps are often left un-ticked in a box that your application will be sent to (which was sad). They asked who was working at disability camp this summer and asked us to stand and explained about the work we would be doing and how important it was, and at the end gave us all applause. I feel I have learnt so much more than if I went to a different summer camp. I have become more compassionate and patient, more aware of how to treat people and definitely more knowledgeable about disabilities. You may think you don't have the skills or experience to go to a disability camp but I can guarantee you that other people going to that camp will feel the same. My camp provided me with all the skills I needed and information about the person I would be working with before the campers came. I guess one of the reasons I enjoyed it was because I was constantly busy and I felt needed by the people I was with. It was great getting to know someone so quick and you always felt very sad when they left! Yes, you may have shower people and dress them but when you see them enjoying camp or saying thank you, its the best thing. An example is from my friend Christian, he was working with someone who didn't speak much and wore headphones most of the time because he was sensitive to noise. One of the last days here he said to Christian 'Love you, Goodnight Christian' it was the first time he had said his name, and it meant so much to him. I have many examples of my own, such as receiving multiple handmade cards, drawings and bracelets, and also seeing people smile, say thank you and giving you a hug. Furthermore, I met a few people's parents too, who were all extremely grateful and I was kind of overwhelmed by this. Parents can often be nervous which is understandable, they provide their children with so much care and then they are at camp for a week or two. When they meet their children again they can see how much their children have enjoyed camp and they are always grateful!
I think about camp so much still and especially when I see posts of people that are going back to work there. It makes me sad I can't go back this year but there is always next year! 
– Jamie Arathoon
Working at a Disability Summer Camp
This blog post focuses on my time working at summer camp for children and adults with intellectual and developmental disabilities. I got this opportunity through applying for AmeriCamp and it is something I highly recommend. After getting told at an orientation meeting with AmeriCamp that most people don't tick the box for there application to go and work at a disability camp. I was a bit shocked when I got told that a lot of people reject disability camps and it was clear that this upset the speaker too. Maybe this is because there is still a stigma about disabilities but I don't know. AmeriCamp were very supportive throughout my application (and all the technical stuff which I am not great at) and answered any questions I had about about working at a Summer camp. I hope through writing this is that firstly, people will consider applying, and accepting, offers to work at Summer camp for people with disabilities; and secondly, people will consider applying through AmeriCamp.
Firstly, working at a disability camp is unlike anything I have experienced in my life. I often work 14-17 hours a day depending on when the campers sleep and wake up with approximately between 1-3hours break a day. It sounds intense but it is the most rewarding thing I have ever done.

I have worked with people with a wide range of disabilities and one important thing I have learned is no disability is the same. Most campers I have worked with have had autism (varying types such as Aspergers and PPD) but other disabilities include fragile-X syndrome, CP, ADHD and OCD. The non-acceptable term Mental Retardation has been used for some of the older campers due to there diagnosis back when they were younger (which is very upsetting). Some people are non-verbal, some speak only single words, while others speak constantly. Each person is completely different and it is always important to treat them like you would anyone else. I have also worked with people who have seizures which was really distressful after seeing someone have a seizure for the first time. You have to stay calm and follow protocol but sometimes it's really upsetting.
My job role includes personal care, yes I shower people, feed people and wipe their bottoms sometimes, but someone has to do it and these people need help. Of course not everyone needs this help. Another important thing includes making sure the campers are safe because a lot of the campers elope and are not aware of danger. I have done a fair amount of chasing people since I have been here! However, the most important thing is to make sure the campers are having fun and taking part in the activities available including arts & crafts, woodwork, swimming (most people's favourite), nature, ceramics, sensory room, music, drama, dance, cooking, athletics and horseback riding. Some I have only been to for a brief period before, some I have spent 5-6 hours in each day.

My cabin houses campers that have behaviours, these are experienced for a variety of reasons but include SIB (self-injurious behaviour), physical aggression towards anyone and eloping, amongst others. 
To anyone that wants/is thinking of working at a disability Summer camp, one thing I would say is you have to be confident and determined, as well as able to make a fool of yourself and never give up no matter how hard you think it is because it is seriously intense. However, the main thing is that it's the most rewarding job ever when you see people smiling and happy or when they say or sign "love you", even when saying goodbye, they're crying because I'm leaving. You know that you have gave them a great summer.
I hope this gave you all a bit of insight into working at a Summer Camp for people with intellectual and development disabilities.
– Jamie Arathoon
Day in the life working at a Disability Summer Camp
7 – 8.30am – This is when the day usually begins. The campers within your cabin will usually start to wake up between these times. As I was working at a Summer camp as a general councillor at the camp our duties included making sure that the campers were ready for the day ahead and this would include helping the camper with their personal care e.g. helping get the camper dressed.
8.50am – Just before breakfast started we would go to the flag and have morning role call and this would usually include finding out the days evening activity (EA) and if the day had a theme. For example, some days would be circus day and during this day all the activities would be circus related.
9am – This was the normal time that breakfast was served. Breakfast would usually be on the table as we arrived and the breakfast meals ranged from eggs to pancakes. We would have to make sure that all the campers on our table got served all their breakfast before we could start getting any food for ourselves. The summer camp usually had plenty of food to go around and you could ask if you'd run out of anything. During breakfast we would be given a schedule for the day ahead and this schedule would have an order of activities, which the campers will have to follow throughout the day. I was placed in unit 1 and this meant that we usually had pool right after lunch and this was always the campers' favourite activity.
9.30 – 12.15pm – Right after breakfast the activities would begin. At our summer camp the activities ranged from arts and crafts to horseback riding and drama to cooking. During a cooking activity the campers would be able to make lots of great meals, which ranged from rice crispy treats to smoothies. All of the campers' disabilities varied so it was very important that we knew when and where the campers needed more help. Some of the camper I got to work with over the summer had cerebral palsy (CP) and these campers tended to need more help when it came to do the activities at camp.
12.30 – 1pm – After the morning activities were complete then it was time for lunch. Lunch ranged from grilled cheese to pasta salads. The days when it was chicken tenders for lunch was easily the campers' favourite meal. Some of the campers I looked after needed feeding when it came to mealtimes, so we would have to make sure that the camper was all fed before I could go ahead and eat lunch. This was definitely a challenge at first but the camp supported us with lots of training beforehand so that we were ready for every situation.
1.30 – 5.45pm – After lunch we would again be following the set schedule of activities and for my unit we usually got our pool time then. We would have to help the campers' get ready into their bathing suits and some campers needed a lot of help and support when it came to this as their disability was restricting them. The pool was easily everyone's best activity. At the pool we would get to play with the campers and depending on the disability this ranged from throwing and catching to standing under the giant mushroom in the middle of the pool. After the swimming time was up we would go back to the cabin and get everyone showered off ready for dinner. Some of the campers needed hand-on-hand care with showing due to their disability.
6 – 6.30pm – After all the campers were showered we would take them to go and get some dinner. The dinners would range from pasta bakes to chicken.
7 – 8pm – After dinner was finished it was time for EA to begin and all the campers loved the EAs the camp would put in. During this time the activities would range from camp fires to dances and shows to spirit nights. The best EA in my opinion was easily the campfires as we all sat around the campfire while making S'mores and singing camp songs.
8-9pm – After EA was finished it was time to get the campers to bed. We would make sure all the campers were put to bed before we were then allowed off duty for the night. Then the day would all start again, until it was time for the campers to go home again.
Overall it was the hardest summer ever but also the best summer I've ever had in my life thanks to AmeriCamp. I made so many great friends and would not change my AmeriCamp experience for anything. Prior to working at a disability summer camp I didn't have any experience with working with children who had disabilities but the camp had great support all-round so I never felt worried at any time. Anyone can apply for this camp type. I would easily recommend AmeriCamp to anyone even if you've had experience before or not.
Much love and Free Biscuits, 
AmeriCamp Campus Managers x
5 THINGS YOU NEED FOR AMERICAMP
5 THINGS YOU NEED FOR AMERICAMP!
Heading out to AmeriCamp? Of course you are! 
Well, then you need to check out these 5 products you should purchase RIGHT NOW to ensure you have them in time for Camp! Keep them stowed away in your suitcase ready for that fun day when you begin packing to head off to the States. 
1.Universal Plug Adaptor
How will you charge your phone to take photos of your time at AmeriCamp without one? We recommend investing in this sturdy beast. It has solid reviews, is universal so it can be used anywhere! 
2. Portable Speakers
Something everyone seems to regret not bringing along! Everyone turns up with headphones, no one has speakers! These are ideal for when chilling out after a long days work and listening to your favourite songs. The best way to make memories at camp is by assigning them your own anthem! 
3. Laundry Bag
You weren't expecting that, right!? 
But what are you going to do with all your dirty washing? Do you think it will magic itself clean? Or do you think your dirty underwear will naturally Spartacus itself apart from the clean underwear? – No chance! Get an easy-to-pack away laundry bag like this one so you're always smelling fresh and wearing clean clothes whilst at AmeriCamp!
4. Head Torch
We're 100% serious about this! It's not geeky whatsoever! Imagine… without a head torch… you're walking back from an evening around the camp fire, it's pitch black and you have to navigate through a densely wooded forest… BUMP! You've gone head first into the low-hanging branches, the following morning you have a black-eye. Now who looks silly… ey? Not the ones with the cool head torches! 😉 
(Suggestion may or may not be from experience…)
5. Travel Guide of the USA
It had to be, didn't it? What better than to fuel your desire to travel and remind you of all the reasons you came to America in the first place. It's always useful to have on hand and keep by your side. We love this version by the Lonely Planet and highly recommend it! 
---
If you have any other suggestions about what to take to AmeriCamp – Let us know 🙂 
Top 10 Theme Parks in Orlando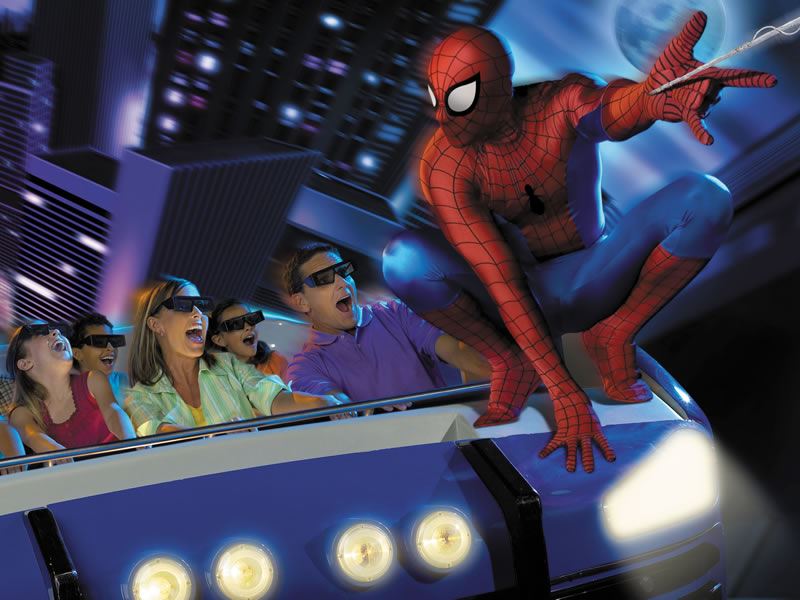 10. Legoland
It takes just 30 minutes to drive from the Disney Resort area to Legoland's majestic plastic gates (made entirely out of little plastic Lego bricks, of course!). Stretching across a 150-acre expanse, Legoland contains 50 different rides, shows, and attractions, even a water park. This family-friendly attraction loaded with enormous Lego structures and 13-unique themed areas is a hit with kids aged 2-12.
Don't miss: Stroll through New York City, Washington D.C., Las Vegas and more with Miniland U.S.A.'s insanely detailed sculptures of each city's major landmarks. Who would have thought that you could snap pictures of the Statue of Liberty on your Florida holiday?
9. Disney's Animal Kingdom
The largest of the Walt Disney World parks, Animal Kingdom has more than enough space for all of its rhinoceros, elephant, giraffe, lion, and tropical bird inhabitants in spacious, incredibly constructed habitats.
Safaris and guided tours bring the intrepid explorer in your family up close and personal with exotic animals. Seven uniquely themed sections of the park surround the intricately sculpted Tree of Life – an enormous artificial tree that includes carvings of countless different animals throughout its trunk.
Dont miss: Be sure to check out Asia for the Flights of Wonder performance (featuring gorgeous and incredibly trained tropical birds) and search for the mythical Yeti on the roller coaster Expedition Everest: Legend of the Forbidden Mountain.
8. Wet 'n Wild
This sprawling water park situated right off of the attraction laden International Drive features 15 exciting water slides and play areas. Numerous rides that feature two-person or more inner tubes make for fun for the whole family.
Don't miss: Adrenaline junkies will definitely want to check out The Bomb Bay – a 20-plus metre free fall drop featuring a mind-tripping trapdoor that slides out from under the rider, propelling them straight down the slide unexpectedly at speeds determined wholly by the whims of gravity.
7. Universal Studios – Ride the Movies
A wide variety of rides and attractions based on your favourite films provide thrills and joy for every fanatic – regardless of their genre preferences. Motion simulator rides based on Transformers and Despicable Me bounce guests through the universe of mega-Blockbuster popcorn flicks. Train to be an agent on the Men In Black: Alien Attack laser shooter ride, or hop aboard Krusty the Clown's runaway roller coaster in the park's most colourful quadrant based on the perennial TV hit – The Simpsons.
Don't miss: For roller coaster enthusiasts, The Mummy hurls riders through a world of ancient curses and reanimated corpses and The Rip Ride Rockit goes straight up into the sky before dropping at a 90-degree angle that is followed by countless spirals, loops, and turns – all while blasting a rockin' soundtrack of your choice.
6. Aquatica
Wonder what it's like to live under the sea? Maybe the dolphins can tell you how they do it as you ride water slides that pass through aquarium animal habitats. Relax between thrilling plunges down this park's 14 slides and attractions at the elaborately constructed sandy beaches with shores leading into two enormous wave pools, or take a nap next to a gorgeous population of cichlids on the lazy river that passes next to their environment.
Don't miss: Turn the kids loose at Walkabout Waters – an enormous water play fortress with slides and water cannons all under an enormous bucket of H20 that tips at random intervals.
5. Disney's EPCOT
The Experimental Prototype Community of Tomorrow is a celebration of innovation and progress. The iconic "EPCOT ball" houses Spaceship Earth – where astounding animatronics act out the lengthy course of human progress from cave paintings to putting man on the moon and beyond! The World Showcase portion of the park features premier options for food and drink inspired by the unique cultures of eleven different nations. The man-made World Showcase Lagoon hosts a spectacular night time laser light show called Illuminations that highlights mankind's diversity and the beautiful, intricate cultures that we have fashioned for ourselves.
Don't miss: Ride a prototype car through various engineering experiments that culminate in a 0-70 mph acceleration tests on Test Track. Also take in the bird's eye view of various California landmarks on the Disneyland- original hang gliding simulator, Soarin'.
4. Disney's Hollywood Studios
Go behind the scenes to experience the magic of your favourite movies at performances such as the Studio Backlot Tour and the Indiana Jones Epic Stunt Spectacular. Whether you're a fan of of the TV classic – The Twilight Zone or you just enjoy a good scare, the thrilling free fall elevator drop of the Tower of Terror. The rockstar in your family will love the high speed limo ride to the Aerosmith concert on the Rockin Roller Coaster. Disney's Hollywood studios is the spot for pop culture thrills for all ages.
Don't miss: The nightly performance of Fantasmic! is almost too epic to put into words. I recommend lining up outside of the Hollywood Hills Amphitheatre at least an hour before showtime in order to get a great seat for this Disney character-loaded laser/fireworks/water performance extravaganza.
Young Jedi Knights will need to pay very close attention to the 20-minute tutorial at the Jedi Training Academy, because their final exam will take them dangerously close to the dark side and Darth Vader himself!
3. SeaWorld
Guests can learn about the majesty of sea life and the importance of conservation at the animal-loaded performances of this theme park. If you're looking for thrills, strap yourself into the high speed Kraken and Manta roller coasters. When you need a break from the midday heat, check out the most expansive attraction in SeaWorld Orlando's history – Antarctica: Empire of the Penguins.
Don't miss: The dolphins fly just as high as their tropical bird co-stars in Blue Horizons – a performance that features acrobatic marine life and daring (human) trapeze artists. The laugh riot Clyde and Seamore show follows California Sea Lions, Otters, and a Pacific Walrus as they hunt for pirate treasure.
2. Universal's Islands of Adventure
Orlando's premier Thrill park features excitement for all ages, including The Wizarding World of Harry Potter – This is the closest we will ever come to living in the world that has enchanted millions of muggle readers all over the world. The details are incredible: snow topped roofs, novel-inspired store fronts, frog choir performances. The treats are indelible: Butter beer, cauldron cakes, chocolate frogs. The rides are unbelievably immersive: fly through Hogwards on Harry Potter and The Forbidden Journey, tangle with a Hungarian Horntail and Chinese Fireball on The Dragon Challenge roller coasters.
Marvel Superhero Island – Spiral into a green rage on The Incredible Hulk roller coaster (my all-time favourite); get your fear extracted by Doctor Doom's Fearfall – a gut-wrenching launch to the top of the world followed by a free fall drop; or help Spiderman face off against a gauntlet of his most ferocious foes on The Amazing Adventures of Spiderman – a 3D motion simulator ride.
Braver guests can test their luck on the dangerous Jurassic Park River Adventure. If you're observant, you may be able to find some nearby dinosaurs posing for photo ops.
Toon Lagoon and Seuss Landing provide colourful escapes for those not meeting The Hulk's height requirements. Kids can dive into the imagination of Dr. Seuss on The Cat in the Hat and then cool off with a tumble down Dudley Do-Right's Ripsaw Falls.
Don't miss: You may be tempted to scoff at waiting in line for a gift shop, but Ollivander's Wand Shop is so much more than just a toy store. One lucky wizard or witch is chosen from the crowd to test out wands in order to find the perfect match. My only grievance is that they have a tendency to pick guests that look less like adults than I do, but I'll get my shot someday.
1. Walt Disney's Magic Kingdom
The culmination of a lifetime's worth of dreams and hard work, Walt Disney accomplished every minor detail of his vision to create the quintessential theme park experience for people of all ages. This enormous park lives up to both words of its name: Five intricately themed sections (Fantasyland, Tomorrowland, Frontierland, Adventureland, and Liberty Square) make up Walt's Kingdom. Though so much of the Magic is in the tiny details, the ethereal experience is heightened by all of your favourite characters (or best friends ever) from childhood walking around this dreamy park.
There are almost too many attractions to recommend. The classics – some of which have received stunning updates – are all musts: Dumbo the Flying Elephant, The Haunted Mansion, Thunder Mountain Railroad, Space Mountain, the spinning tea cups of The Mad Tea Party, It's a Small World, but also be sure to check out the brand new Festival of Fantasy parade.
Don't miss: If you show up right when the park opens, it may take some endurance to last until the closing fireworks, but I PROMISE you that it is 110% worth it. Gather round Cinderella's Castle for Wishes – a spectacle that never fails to enchant.
More information and to book: We know if you're heading to Orlando, you'll be heading to the theme parks, therefore we have a huge choice of attraction tickets and excursions for you to choose from.
Article written by Brentley Newton.
How Many of These Facts about America Did You Know?
Our Grand Old Flag
Camp Vietnam – How to see Ho Chi Minh by moped
I have never been on a moped before, mainly because I have always been warned that they are death traps. So to get on the back of one in one of the busiest cities in the world with a stranger seemed like a sensible idea.
There are seven million other moped riders exploring Ho Chi Minh's roads. The streets are permanently busy, filled with locals frantically weaving through the congestion to get to their destinations. Walking is not popular here, rather ironically because of the thick smog emitted from the mopeds. On a bad day you can feel the smog in your lungs as you walk around. But it is nothing compared to China's capital.
The same is true when it comes to crossing the road. Before visiting Saigon I read various alarming accounts of people's struggles to get across the heaving traffic. None of which seem the slightest bit true now, especially as it is far less of a challenge than it is in Beijing. Here the locals expertly manoeuvre their mopeds around you and do not attempt to accelerate.
These two tours give you the chance to experience what it is like to sit on the back of one while you are driven by a local expert moped rider. It is an ideal way to see the buzzing centre of Ho Chi Minh, as well as the hidden spots only locals know.
Vespa Adventures
Vespa Adventures is one of the biggest and most well-known moped tour companies in the city. The company offers multiple tours in Ho Chi Minh and others throughout Vietnam. I found out what their Ho Chi Minh After Dark tour is like.
The tour is four hours long and includes 'all-you-can-eat food' and 'free-flowing drinks'. The night starts with two guides on refurbished vintage Vespas from the 1950s picking you up at your hotel. The main benefit of the Vespas, as well as their classic style, is the seat at the back which feels more stable than a traditional moped. Our guides did not say anything on arrival – not even stopping to ask our names – but off we rode into the night.
The first stop is the tour company's own Cafe Zoom, which is not a street food stand or really a cafe. The cafe is packed with other tourists and tour guides. Our guide Chien, who is thankfully much chattier than the driver, tells us there are 84 people doing this tour, but it can be as many as 120 in one night. This is why the tour can fail to offer a personal experience, even if you are put in a group with six other people to make the tour feel more intimate.
Next you travel for twenty minutes to a restaurant in District Four. On the way l pass Buddhist temples, locals finishing up their nightly chores and dogs wandering across roads. This is definitely not an area you would stumble into on your own. The restaurant serves a mixture of fresh seafood and we are presented with crab legs to start, followed by clams cooked in a lemongrass soup. The crab is very sweet and meaty, nothing like the typical seaside crab I have tasted in places like Devon.
Next come the barbecued mussels with peanuts and spring onion, a stand out part of the entire evening. The meal is finished with a plate of frog, which tastes, in the best way possible, just like fried chicken. All of this is produced from a building not much larger than a shack on a busy roadside. The next restaurant, another ride away, is popular with locals and tourists. It specialises in traditional Vietnamese pancakes, cooked with shrimps and eaten in a mustard leaf.
You end the tour by visiting a 'speakeasy-like bar', if that definition works, to listen to local music and then to another bar to see some other live, more poppy, music. While the tour is an interesting introduction to the city's cuisine, you can feel like you are on a conveyor belt.
As soon as you arrive at a place, another tour group leaves – and repeat. While the first restaurant and the speakeasy are places you genuinely would struggle to find while researching a trip to Ho Chi Minh, the second restaurant is quite easy to find online. Time is also limited at each place and our guide spends a large amount of time preparing to tap us on the shoulder to tell us that we should finish our drinks. This can make you feel like you need to constantly check your watch. One further negative is how the tour is described as offering 'free-flowing drinks'. But it was rather disappointing to be told to pay for my next espresso martini.
According to Vespa Adventures, they 'do offer unlimited amounts of food and drinks including alcohol.  Guides are instructed to be careful with the last stop because the limited time and amount of drinks guests might have consumed during the evening.'
First-time visitors to Ho Chi Minh may feel that the tour also lacks the much-needed history about the city and the food it creates. This background is essential to get a greater understanding of why dishes are cooked with certain flavours and how Vietnamese cooking tends to stay clear of its French and Chinese influences. But overall, it is a professional setup and a lively evening out.
The Saigon After Dark tour costs £75.00 per person and can be booked on their website. 
Saigon Street Eats
Saigon Street Eats is a smaller tour company set up by the Australian-Vietnamese couple Vu and Barbara in October 2012. The Street Food 101 tour starts with a friendly greeting from Vu and a moped driver at our hotel. The mopeds are the type that you see everyday during your time in the city, which makes the experience feel more genuine.
My driver can sense that despite the authentic factor, I'm still a wimp, and he avoids nipping around like one of the locals. They chat through the sights as they drive us around to our first location, a small square in District One with many different restaurants. Most of them look like garages with plastic chairs and tables plomped outside. You would not visit any of them by accident and this is part of the tour's charm.
Before we get our hands on the food we receive a brief introduction to Vietnamese history and how the people tried to forget the darker moments of their collective past in their kitchens. Essentially, how they moved as far away from Chinese and French cooking as they could. Though they could not completely resist their tricks of the kitchen, like their adaptation of the baguette through the dish Banh Mi.
We visit four places during the tour, sampling a range of dishes from curried frog to beef bone soup, Bun bo Hu. A crispy rice flour wrap of stingray and peanuts is one of the most interesting dishes I have ever eaten. The food, without exception, is excellent.
One of the most helpful parts of the tour is Vu's advice on discovering the best Vietnamese street food. The greatest fear amongst tourists is food poisoning. But Vu tell us that there are easy ways to avoid it. First of all, avoid restaurants where it does not look like there is a kitchen inside. Many of the stalls on the street are carts because they operate without a license and therefore do not necessarily have to follow food and hygiene policies. It is also wise to choose places to eat where there is a lot of meat outside, as this means they are more likely to use fresh ingredients.
This tour definitely wins for its personal touch. Vu is entertaining and informative, as you would expect somebody who wrote a book on Vietnamese food to be. While you don't ride around in luxury, that was never part of the deal and by the end of the night you feel like have sampled unforgettable cuisine.
The Street Food 101 tour is a 3 hour tour and costs approximately £36.00 per person, all inclusive. You can book the tour on their website.
As each tour ends I make the most of seeing Ho Chi Minh on a moped. The endless streams of traffic, the city's dazzling lights, the friendly locals showing off their moped tricks. And all of this with a stomach full of Vietnam's best street food.
Credit to Sophie Murrey-Morris from Metro.co.uk for the article. Follow the six-month trip around the world on Instagram and all the articles here. 
If you are interested in visiting Vietnam, check out Camp Vietnam here
Simon & Tara Have Got Engaged… After 7 Years!
Their awkward sitcom alter-egos were not destined for fourth base, let alone wedded bliss.
But now Joe Thomas and Hannah Tointon from The Inbetweeners are engaged, according to social media.
It's been nearly seven years since 33-year-old Joe, who played unlucky-in-love ringleader Simon, started dating 29-year-old Hannah, who played Simon's slightly crazy girlfriend of about a week or so, Tara.
The pair have been living together in London since 2012 and now it seems they are planning to tie the knot. Will Jay, Neil and Will be joint Best Men? We hope so.
Metro.co.uk has contacted the actors' reps for confirmation of their engagement but so far, neither Joe nor Hannah have referenced their rumoured impending nuptials on social media.
Hannah, who is The Halcyon actress Kara Tointon's younger sister, first appeared in the third series of The Inbetweeners, and is now better known for her roles in Mr Selfridge, Penny Dreadful and Hollyoaks.
Previously Joe, who's also starred in Fresh Meat, told Cosmopolitan of the relationship: 'I always try to impress my girlfriend Hannah by any means I can and I'm very protective about her.
'I think I am romantic. I've tended to have some serious, long-time monogamous relationships.'
Seems Joe is a lot more successful than Simon ever was with the ladies.
Hannah and Joe already attended the wedding of fellow Inbetweener Blake Harrison, who played Neil, to theatre publicist Kerry Ann Lynch…
Read more: Source of article: Metro.co.uk